Li şeveke mijdar û sar du zarokên biçûk ketin nav çaleke kûr û şemitok. Her du jî birîndar bûn, tirsiyan û neçar man.
Ji ber ku di heman rewşê de bûn, nekarîn hev û du xilas bikin. Ku ji derveyî çalê alîkariyek nehata, dê mirinê di demeke kin de ew bi dest xistina. Piştre sê mêr ew zarok dîtin. Yek ji wan bi tayekî daket nav çala tarî, nemdar û zeloq. Zarok ji çalê hatin derxistin.
Rizgariya wan ji jor hat.
Gava Adem û Hewa guneha pêşîn kirin, bûn wekî van her du zarokan. Di mijara derketina ji nav çala gunehê de neçarb bûn. Ku divabû ji mirina bêdawî bên xilaskirin, ev rizgarî divabû ji bilî nifşa mirov bihata; divabû rizgarî ji jor bihata.
Di vê mijarê de nexapin. Rewşa mirov, ew qas cidî ye ku bixwe nikare çareser bike. Bi sedsalan, bêîstisna hemû nifşa Adem –yên ku ji mêr û jinê hatin dinyayê- mîrasa xwezayekê ku ji hêla gunehê ve hatibû girêdan, girt. Hemû di bin laneta gunehê de hatin dinyayê.
Xwedê wisa plan kir ku ji bo ku gunehkaran ji lanet û encama gunehê bifilitîne, Zilamekî bêguneh şand ku kesên ku dixwazin ji çala gunehê derkevin, xilas bike.
Dê Xwedê ev plan çawa pêk bianiya? Dê yekî, bêyî girtina mîrasa xwezaya biguneh a Adem, çawa ji malbata mirov bihata dinyayê? Xweda roja pêşîn a ku guneh tevlî ezbeta mirov bû, der heqê plana xwe de delîlek da.
REB, "Mar" ango "Şeytên" ji berê de hişyar kir:
Ez ê te û jinê, Ezbetawê û ya te bikim dijmin ji hev re.. dê nifşa wê serê te bipelixîne, tu yê êrîşê pehniya wê bikî." (Afirîn 3:15)
REB bi bikaranîna "ezbeta jinê",ji berê de agahî dida ku dê rizgarî bi rêya kurekî ku dê ji jinekê bihata dinyayê pêk bihata û dê Wî gunehkar rizgar bikirana û dê Şeytên bi dawînî bipelixanda û dê xirabî ji holê rakira. Ev pêşagahî, ji sedan pêxemberiyan tenê ya pêşîn bû ku, dê piştre bihata zanîn, û her yek bi zelaliya di dîroka ku dê Xelasker-Mesîh dinyayê ziyaret bikira de, pêk bihata.
ÇIMA "EZBETA JİNÊ"?
Mesîh dê çima ji ezbeta mirov re wekî "ezbeta jinê" biketa? Çima divabû ne ji mêrekî, lê "ji jinekê bihatadinyayê"? "Galatyayî 4:4)
Bersiva vê pirsê ev e: Xilaskerê gunehkaran dê ezbeta gunehkar a Adem wekî însanekî ziyaret bikira û divabû ji derveyî çala gunehê bihata. Dê ji jor daketa jêr.
Xweda der heqê Ezbetajinekêde agahiya xwe ya pêşîn daxuyan kir û gelek bi şûn de, pêxember Yeşaya ev nivîsî:
"REB bixwe dê ji we re nîşaneyek bide: Va dê keçik bihemle be û dê Kurekî bîne dinyayê û dê navê wî bike Immanuel [tê wateya 'Xwedê bi me re ye']" (Yeşaya 7:14)
Xilasker, dê bi rêya malzaroka jineke ciwan a ku bi tu mêrekî re neketiye têkiliya fîzîkî, bihata dinyayê. Bi vî awayî Mesîh, bêyî girtina mîrasa xwezaya biguneh a Adem, dê bikarîba nifşa Adem a ketî ziyaret bike.
Yekî dikare wiha bibêje: "Lê ka bisekine, Jin jî gunehkar in. Gava Mesîh ji jinekê bi awayekî bêhempa bê dinê, dê bi rêya xwezaya biguneh a Diya xwe qirêj nebe?"
Em ê du sê rûpel bi şûn de bibihîzin ka Ruhê Pîroz yê Xwedê Bixwe çawa ev Zarokê pîroz bi awayekî mucîzewî xistiye nav malzarokê. Lê dîsa jî em di plana Xwedê ya ku Kurê bêguneh di malzaroka bakîreyekê de bîne dinyayê de, li ser hin unsûrên ku kêmtir diyar in, bisekinin. Mesîh çawa bû ku bi gunehê ku belavî hemû nifşa Adem bûye qirêj nebû û hate dinyayê?
BI GUNEHÊ NELEWITÎ
Wekî ku em berê jî di beşa 13an de hîn bûn, Xwedê ji berîalîkirina mirovan a serweriya guneh û mirin a Şeytên, Ademberpirsiyar kiribû.ya hatibû xapandin Hewa bû, ne Adem. Jin jî wekî mêran bi xwezayeke gunehkar bêne dinyayê jî, Nivîsên Pîroz diyar dikin ku sedema hatina me ya dinyayê ya bi xwezaya gunehê, girêdana me ya bi Adem re ye. 1
Di Îbrankî de rasterast wateya Adem (Adamah) "axa sor" e.
Xwedê bedena Adem ji axa erdê pêk anî. Piştî ku Adem guneh kir, Xweda jê re got: "Tu ax î û tu yê dîsa vegerî axê." (Afirîn 3:19)
Li dijî vê, Hewa tê wateya "jiyan"ê, lewre "ew diya hemû mirovan bû." (Afirîn 3:20) Roja ku guneh kete nav dinyayê, Xweda plana xwe ya der heqê çareserkirina pirsgirêka me ya gunehê û bi rêya "ezbeta jinê" (Afirîn 3:15) ku dê ji dinyayê re jiyana bêdawî bîne, diyar kir.
Dê Mesîh bi bedeneke ku ji goşt û xwînê pêk tê bihata niximandin, lê dê ji nifşa Adem a ku tevlî gunehê bûye, nehata. Dê ew bi gunehê nehata lewitandin.
Ez dixwazim bi ser de zêde bikim ku, yekcar li gorî nêrîneke biyolojîk, îro zayenda zarokekî ne bi "tov"ê (bizrê zarok) diya wî, lê bi "tov"ê (sperm) bavê wî diyar dibe. Di heman demê de em dizanin ku bebekî ku di malzaroka diya xwe de ber girtiye, xwedî pergaleke xwîngerînê ya cuda ye ji ya diya xwe. Zanista tibî ji me re ev daxuyanî dide: "Plasenta, gava dihêle xwarin û oksîjen derbasî embriyoyê bibin, di heman demê de astengeke bêhempa jî çêdike ku bila xwîna dayîkê ji ya embriyoyê cuda bê girtin." 2
Xweda hê mirovê pêşîn neafirandibû, hemû hurgûliyên hatina Mesîn a dinyayê plan kiribû.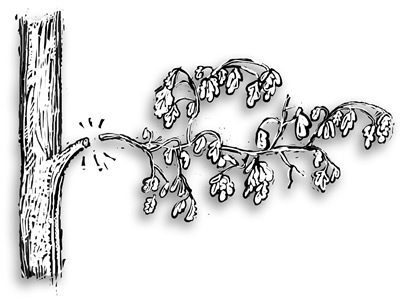 Mînaka çiqlê ku ji darê hatibû birîn bînin bîra xwe. Mîna vî çiqlê mirî yê ji darê veqetiyaye, malbata mirov jî ji ber ku ji Çavkaniya Jiyanê veqetiyaye, bi ruhî mirî ye. Xilaskerê gunehkaran jî, digel ku dê di nav malbata Adem ya ku bi ruhî miriye û bi gunehê hatiye lewitandin de bijî, dê ji vê malbatê nehata. Dê Ew Çavkaniya Jiyanê bûya "mêwa rastî"(Yuhanna 15:1)
Dê ew nuwazebûya.
"Nuwazebûna" Wî nedihat wê wateyê ku dê li ser bedena Wî tu car pizrik, birîn an jî xêzik tune bûya. Dê xwedî xwezaya bêguneh bûya. Dê Zagona Xwedê tu car binpê nekira. Dê Ew bûya "pîroz, bêsûc, paqij, ji gunehanveqetiyaye, ji esmanan zêdetir bilind bûye" (Îbranî 7:26)
Binavkirina Mesîhê bêguneh a wekî "mirovê duyemîn" û "Ademê dawî" dibe ku surprîz be?
MIROVÊ DUYEMÎN
"Wiha hatiye nivîsîn: Mirovê pêşîn Adem bû canê zînde. Ademêdawî jî bû ruhê ku jiyan dide. Ewil yê ruhî nehat, yê xwezayî hat. Mirovêpêşîn ji erdê ye, ango ji axê ye. Mirovêduyemîn ji esmanê ye." (Korîntiyên 1., 15:45-47)
"Mirovê pêşîn"çawa ku hemû serjimara mirov beraliyê wirêjayî û qraltiya tarî ya mirinê kir, bi heman awayî "mirovê duyemîn"jî dê gelek mirov ji qraltiya Şeytên derxistana û wan ber bi rastiya Xweda û qraltiya bihişmet a jiyana Wî ve bibirana. REB, ji ber vê roja ku nifşa mirov lewitî, bi Şeytên dabû zanîn ku dê rojek Ezbetekî jinê bê dinyayê ji bo ku wî birîndar bike û serê wî yekcar bipelixîne.
Pêxember Mîka der heqê Xilasker ê ku tê wehd kirin de nivîsî:
"Lê tu, ya Beytlehem Efrata, digel ku tu nav ezbeta Yahuda de negirîng î, yê ku Îsraîlê bi navê min bi rê ve bibe, dê ji te derkeve, koka Wî digihije ezelî û destpêka zemanê… dê hemû cîhan mezinahiya Wî qebûl bike, dê ew silametiyê bîne ji gelê xwe re." (Mîka 5:2,4-5)
Mîka ji berê de tenê agahiya Mesîh a ku dê li bajarê "Beytlehem"ê 3 bê dinyayê neda, di heman demê de hebûna Xilasker jî wekî "ezelî, ji destpêka demê"diyar kir.
Yê Ezelî û Bêdawî, dê ji bêdawîyê derketa û têketa nav demê.
JI HÊLA PÊXEMBERAN VE JI BERÊ DE HAT AGAHDARKIRIN
Pêxemberên ku didin zanîn dê Mesîh li bajarê Beytlehemê, ji bakîreyekê bê dinyayê, di heman demê de ji nûçevanekî ku dê hatina Wî ji berê de bidaya zanîn, qal kirin. Pêxember behs kirin ku dê Bijareyê Xwedê bi nasnavên Kurê Xwedê û Benîadembihata zanîn. Pêxember ji berê de dan zanîn ku dê ew wisa bike ku dê kor bibînin, ker bibihîzin û seqet bimeşin. Dê siwarî kerekî biba û têketa Yeruşalimê û dê ji hêla gelê xwe bihata redkirin. Dê tinazên xwe pê bikirana, tû bikirana bi ser Wî de, dê Wî şelaq bikirana û dê Wî li çarmixê bixistana. Dê tu gunehê Wî tunebûya, lê dê ji bo gunehê yên din bimiraya. Dê li gora zilamekî dewlemend bihata veşartin, lê dê bedena Wî ya mirî neriziya. Li dijî vê, dê mirin têk bibira, vejîna xwe rê bida û dê vegeriya esmanên ku jê hatibû. 4
Di dîrokê de yê ku hatiye nivîsîn û li gorî vê profîlê ye, kî ye?
Heman Kes salnameya dinyayê kir du beş.
Navê vî Kesî Îsa ye.
XWEDA SOZÊ XWE DIGIRE
Xweda wehd kir ku dê Xelasker bi rêya malbata Birahîm, Îshaq, Yaqûb, Dawud û Silêman bişanda dinyayê. Mizgîniya Matta ku pirtûka pêşîn a Peymana Nû (Încîl) ye, bi van peyvan dest pê dike:
"Qeyda ezbeta Îsa Mesîhê Kurê Birahîm, Kurê Dawud wiha ye: Birahîm bavê Îshaq bû, Îshaq bavê Yaqûb bû, û Yaqûb bavê Yahuda bû…"
Berdewama van rêzikan lîsteyeke dirêj a ezbetê pêk tîne; lîste cih dide îfadeya "Qral Dawud bavê Silêman bû" jî û bi van rêzikan bi dawî dibe: "Yaqûb bavê Yusufê mêrê Meryem bû, ji Meryem Îsayê ku wekî Mesîh tê zanîn, çêbû." (Matta 1:1-2), 16). Peyva Hristo ya Grekî, beramberê peyva Mesîh a Îbrankî ye û tê wateya Yê Meshkirî (Yê Bijartî). 5 Ev secere mafê zagonî yê Îsa yê ku xwedî textê Qral Dawud e, belge dike û dide nîşan ku Îsa ji ezbeta Brahîm, Îshaq û Yaqûb hatiye. Xweda soz dabû ku dê bi rêya vê ezbetê Bereketên xwe bidaya hemû mirovên li cîhanê.
Dema pêkanîna plana Xwedê ya rizgariyê hatibû: "Xweda vê Mizgîniya der heqê Kurê Xwe Rebê me Îsa Mesîh de, di Nivîsên Pîroz de bi rêya pêxemberên xwe wehd kir…" (Romayî 1:2)
KURÊ YÊ HERÎ BILIND
Beşa yekemîn a Lûka, çîroka balkêş a milyaket Cebraîl a ku Zekeriya ziyaret kiribû, dinivîse; Zekeriya li perestgeha Yeruşalimê de kahîniyê dikir. Zekeriya û jina wî Elizabet, digel kalbûna xwe ku nedikarîn zarok çêkin, Cebraîl ji Zekeriya re ragihand ku dê kurekî jina wî çêbe, û got divê navê wî bike Yahya. Ev kesê bi navê Yahya, dê bûya nûçevanê Mesîh.
Ev rêzikên bûyeran, piştre bi ziyaretkirina Cebraîl a keçeke ciwan a bi navê Meryem, berdewam dike:
"Xweda milyaket Cebraîl şand bajarekî bi navê Nasira. Ew şand cem keçekê ku bi zilamekî bi navê Yusuf re destgirtî ye, ê ku ji ezbeta Dawud e. Navê keçikê Meryem bû. Milyaketê ku çû cem wê, 'Selam, ya keçika ku gihiştiye lutfa Xwedê! Reb bi te re ye' got.
Meryem bi van gotinan metelhiştî ma, fikirî ka wateya vê silavê çi bû. Lê milyaket jê re got, 'Netirse Meryem. Tu gihaştî lutfa Xwedê. Binêre, tu yê bihemle bibî, kurekî bînî dinyayê û navê wî Îsa danî. Ew ê mezin bibe, dê ji wî re bibêjin 'Kurê Mezinê Mezinan'.
Reb Xweda dê jê re textê Dawud bide. Dê ew jî heta hetayê li ser ezbeta Yaqûb serweriyê bike, dê dawiya serweriyê neyê.'
Meryem ji milyaket pirs kir, 'Ev çawa dibe? Ez bi zilamekî re nebûm!' Milyaket ev bersiv da: 'Dê Ruhê Pîroz bê ser te, dê hêza Mezinê Mezinan bibe sî ji te re. Ji ber vê dê ji yê ku bê dinyayê re bibêjin pîroz û Kurê Xwedê… lewre tu tişt tune ye ku Xweda nekare bike."(Lûka 1:26-37)
RIZGARKERÊ GUNEHKARAN
Çend meh bi şûn de Yusûf hîn bû ku destgirtiya wî Meryem bihemle ye. Û ket wê xeletiyê ku fikirî Meryem ne dilsoz e. Biryara xwe da ku bêhis ji Meryem veqete.
"Ji ber ku Yusûf zilamekî rast bû, nexwest wê li ber her kesî bixe şermê, ji ber vê nêta wî ew bû ku bi awayekî bêhis jê veqete. Li ser fikra wî, milyaketekî Reb di xewna wî de xuya bû û got: 'Yusûfê kurê Dawud, ji stendina Meryem wekî hevsera xwe netirse, lewre yê ku di malzaroka wî de çêdibe ji Ruhê Pîroz e. Dê Meryem kurekî bîne. Tu yê navê wî bikî Îsa. Lewre dê Ew gelê te ji gunehan rizgar bike."(Matta 1:19-21)
Wekî ku di beşa yekemîn a pirtûka Afirînê de hatiye daxuyankirin, Ruhê Pîroz Xweda Bixwe ye. 6 Yê ku Peyva xwe ya Bêdawî bi awayekî serxwezayî xistiye malzaroka Meryem, Xweda ye.
Peyva JESUS a Îngîlîzî, bermaberê peyva IESOUS a Grekî ye û ji peyva Îbrankî ya YEOŞUAya bi awayî kurt a YEŞUtê.
Ev nav tê wateya REB xelas dike.
"Ev hemû ji bo ku ev peyva Reb ya bi rêya pêxemberan ragihand pêk bê, çêbûn: 'Va ye, dê keçik bihemle be û kurekî bîne dinyayê; dê navê wî İmmanel deynin.' Wateya İmmanuelê, Xweda bi me re ye, ye.
Dema Yusuf şiyar bû guh da fermana milyaket û Meryem wekî hevsera xwe anî cem xwe. Lê heya ku kurê xwe bîne dinyayê, Yusûf destê xwe nedayê. Navê kurê hate dinyayê ÎSA danî." (Matta 1:22-25) 7
PEYVA XWEDÊ YA PÊKHATÎ
Xweda roja ku guneh kete nava dinyayê, Plana xwe ya ku daxuyan dikir, pêk dianî. "Ezbeta Jinê"dikir bihata dinyayê!
Me çend rûpel berê pêxemberiya Mika ya der heqê Mesîh de ku dê li ku bê dinyayê, xwend. REB ji berê de got dê li Beytlehemê bê dinyayê – Beytlehem, bajarê Qral Dawud ê ku lê hatibû dinyayê, bû.
Lê pirsgirêkek hebû.
Meryem û Yusûf li Nasirayê dijiyan û ji bajarê Nasirayê heya Beytlehemê divabû çend rojan rêwîtî bihata kirin.
Dê pêxemberiya Mika çawa pêk bihata?
Ev rewş tu pirsgirêk dernedixist.
Xweda ji bo ku alîkariya pêkhatina vê pêxemberiyê bike, dê Împaratoriya Romayê lebitanda.
"Li wan rojan, Sezar Avgustus fermanek derxist ku bila li cîhana Romayê hejmartina gelhe bê kirin. Hejmartina pêşîn li dema Kirinius a ku wê demê parêzgarê Surî bû, hat çêkirin. Her kes ji bo nivîsînê çû bajarê xwe.
Bi vî awayî, ji ber ku Yusuf jî ji nifşa Dawud û ji neviyên wî bû, ji bajarê Nasira yê Celîlêyê çû herêma Yahudiyan, û çû bajarê Dawut Beytlehemê. Li wir dê bi destgirtiya xwe ya bihemle, Meryem, re bihata nivîsîn. gava ew li wir bûn dema zayîna Meryemê hat û kurê xwe yê yekemîn anî dinyayê. Ew xist nav qûndaxê û li afirê razand. Lewre li qonaxê cih tune bû." (Lûka 2:1-7)
Mesîhê wehdkirî, li şûna ku li qesreke rihet û bihişmet bê dinyayê, li bereqeyeke zelane hate dinyayê û li afirekî heywanan hat razandin. Sedema zayîna wî ya li cihekî wiha ew bû ku bila kesên herî feqîr û ji rêzê jî bêtirs bêne cem Wî.
DAXUYANA MILYAKETÊ
"Li heman herêmê, ji bo ku li cem garanên xwe nobetê bigirin, şivanên ku şeva xwe li guherê derbas dikirin, hebûn. Milyaketekî Reb li wan xuya bû û hişmeta Reb derdora wan ronî kir. Pir tirsiyan. Milyaket gote wan, "Netirsin!".'Ez mizginiya agahiyekê didim we ku dê hemû gel pir şa be: îro li bajarê Dawud Xelaskerekî hat dinyayê ji bo we.Ev Mesîh e ku Reb e." Va ye ji we re nîşaneyek: Hûn ê li afirê bebekekî ku bi qundaxê hatiye pêçandin bibînin.
Ji nişka ve li cem milyaket komeke ku ji artêşên esmanî pêk tên, xuya kirin. Bi pesndayîna Xweda, "Li herî bilindiyê, bila ji Xwedê re îzet bibe, bila li rûzemînê ji mirovên ku Wî kêfxweş kirin, sihetî bibe!' gotin. (Lûka 2:8-14)
Di dîroka cîhanê de demeke pir girîng bû.
Berbendiya dirêj bi dawî bibû.
"û Meryem kurê xwe yê yekemîn anî dinyayê…" (Lûka 2:7)
Ezbeta jinê hatibû.
Her tişt wekî gotina pêxemberan, li gorî plan û dema Xwedê bêqusûr pêk dihatin. 8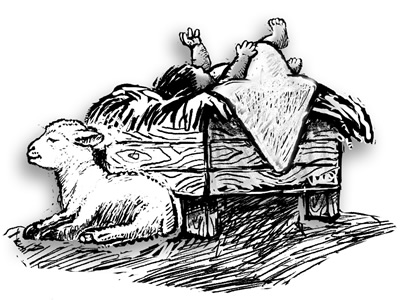 Xweda, ji bo daxuyanîn û pîrozbahiya zayîna Îsa tenê milyaket neşandin, di heman demê de ji bo rûmetkirina vê bûyera kêfxweş, bişev stêrkek taybet jî danî ser esmên. Komeke stêrzan a ku ji rojhilatê hatibûn û mirovên zana li çavnêriya vê stêrkê kirin û ew şopandin. Ji Îrana kevn a pir dûr hatibûn û rêwîtiyeke westîner bû; ev mirovên bijare çûn cem Qral Hirodes 9 ê Yeruşalimê. Jê pirseke wan hebû:
"Zarokê ku wekî Qralê Yahudiyan hatiye dinyayê li ku ye? Me li rojhilatê stêrka wî dît û em hatin ku wî biperêsin." (Matta 2:2)
KESÊ DI BEBEKÊ DE
Ev zarokê kur ku li bereqeyekê hate dinyayê, li afirê heywanan hat razandin, ji hêla pêxemberan ve hatina wî ji berê de hate zanîn, agahiya wî ji hêla milyaketan ve bi mizginiyan hat dayîn, bi stêrkekê hat rûmetkirin û ji hêla mirovên zana hate perestin kî bû?
Niha em dîsa guh bidinê ka milyaket ji şivanan re çi gotibûn:
"Netirsin!" Ez mizginiya agahiyekê didim we ku dê hemû gel pir şa be: îro li bajarê Dawud Xelaskerekî hat dinyayê ji bo we. Ev Mesîhê Reb e."(Lûka 2:10-11)
Ev kesê di bedena biçûçik de Rebbû.
---